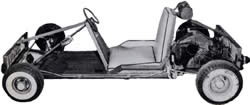 << Kartbuilding Home
Build your own Highway Street Kart :: Plans, Details and Digrams from Modern Mechanix (1962)
Introduction to the Highway Street Kart How-To
All the information, plans, details etc. are obtained from the Modern Mechanix Magazine, published in May 1962. Although the same kart today would not be suitable for Highway use (let alone going around the world!), the details, plans and measurements (inches) are very useful providing an excellent insight into kart design and building.
Currently there is only a PDF download of these plans. I hope to remodel and reproduce this Street Kart in 3d and provide a full set of easy-to-follow plans in metric format.
PDF Version of the Highway Street Kart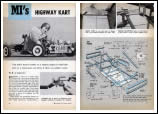 Click to Download the Highway Street Kart Plans and Information
Driving the Highway Street Kart Around the World :: Modern Mechanix
In tandem with the above how-to on building a street kart, Modern Mechanix wrote an article about driving the above Highway street kart around the world in 1962. It makes for a very interesting read! Times have changed a lot since then however.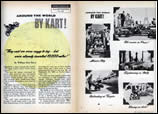 Click to Download the Article - Around the World by Kart
Copyright and Related Notices
Special thanks to Charles Shopsin for allowing the use of this information from his excellent blog.modernmechanix.com website.
The permalinks to the above two Modern Mechanix articles are:
http://blog.modernmechanix.com/2006/04/03/build-your-own-street-legal-kart/
http://blog.modernmechanix.com/2006/03/31/around-the-world-by-kart/
Contact Webmaster
The webmaster of this www.kartbuilding.net website would be interested in recieving any comments and suggestions. Please use the following email address:

KARTBUILDING
2007 | © Stephen Burke |

Del.icio.us